The Road to Her: Recensione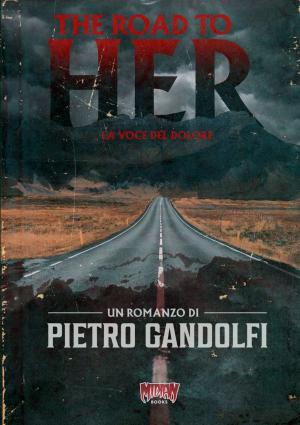 Nazione: Italia
Anno: 2019
Autore: Pietro Gandolfi
Casa editrice: Midian Books
Cole conduce una vita a metà, diviso tra un lavoro mediocre e troppi obbiettivi mai raggiunti. Per quanto la sua vita gli appaia insoddisfacente, tutto peggiora quando scopre una frequenza radio capace di trasformarsi nella sua ossessione. Perché la stazione radio non trasmette musica e nessun DJ intrattiene gli ascoltatori. Sintonizzandosi sulle sue onde si può udire soltanto la sofferenza. Il mondo che muore, l'umanità che decade. Anime che vengono umiliate.
Ma esiste un luogo dove potrebbero esistere delle risposte e allora Cole non esiterà a partire coi suoi amici Jake e Dakota.
Alla ricerca dell'origine dell'orrore.
Alla ricerca di se stesso.
Alla ricerca del dolore.
The Road to Her è un bel libro, scritto molto bene, che ha il ritmo di un granitico pezzo heavy metal. Gli stessi protagonisti sono innamorati della musica che scandisce le diverse e pericolose situazioni che si trovano ad affrontare. Cole, per esempio, lavora in un negozio che vende dischi e vorrebbe tanto poter dare una nuova direzione alle vendite, puntando sulla musica rock a differenza del suo capo, che lo puntella continuamente perchè gli affari vanno male e lo spinge invece a piazzare solo le hit del momento rigorosamente tra Pop, Rap. Jake invece è immerso totalmente nella musica metal, è la sua ragione di vita (insieme all'amicizia per Cole e all'amore per la sua ragazza) essendo un musicista e leader di una band. Il libro ha il pregio di essere scorrevole, e di assestare in diversi punti della trama dei colpi di scena ad effetto come fossero, per tornare alla musica, dei riff belli tosti. I protagonisti (e il killer al loro inseguimento) attraversano dei luoghi isolati, spesso paesini anonimi in mezzo al deserto di un America immaginaria che Gandolfi descrive molto bene; ci troviamo così in fast food semivuoti, città con poche anime e strade polverose fino a giungere a Little Wood, dove vi è la spiegazione del mistero. Anche i personaggi sono strutturati molto bene, non solo per le descrizioni fisiche ma soprattutto per come sono delineate le diverse e sfaccettate psicologie, e qui Gandolfi, secondo me, da il meglio di se, facendoci entrare in totale empatia con essi. L'autore è anche molto bravo a mantenere il lettore con il fiato sospeso fino alla fine, quando non vediamo l'ora di capire da dove, in realtà, provengano queste misteriose urla di dolore. Ecco, il finale è probabilmente la parte migliore del libro: per niente scontato, riserva grandi sorprese. E lì l'autore dà sfogo anche a tutta la sua passione per l'horror, che reputo molto affine alla scrittura e alle visioni estreme di Clive Barker (del resto l'etichetta dietro la quale autoproduce i suoi libri si chiama Midian…). Il libro così risulta alla fine un bel mix tra una storia on the road ma con dei risvolti psicologici in cui si incastrano le derive mentali dei personaggi pronti in ogni momento a esplodere in un tripudio di visionaria violenza. Lo splatter non manca, le creature mostruose neanche è vi è anche una buona dose di erotismo che non guasta mai. The Road to Her è un bel libro che vi farà passare delle piacevoli ore di puro e sano horror.
Leggi l'intervista all'autore Pietro Gandolfi cliccando qui.
© Sergio Di Girolamo